Dental Health Day
"Healthy starts in the mouth – meal!"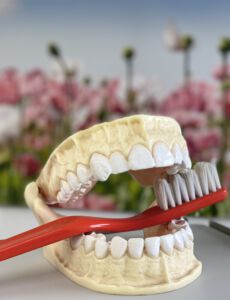 That is the motto of this year's Dental Health Day. Because what is often forgotten in everyday life is the close connection between a healthy, balanced diet and keeping teeth healthy. It is precisely the "hidden" sugars in the food industry that are often not noticed even by nutrition-conscious people. The daily requirement recommended by the WHO (World Health Organization), on the other hand, is only 25 grams, i.e. five teaspoons. And to be honest, that amount is exceeded pretty quickly. A 0.4 ml glass of cola or apple juice is enough!
Obesity, diabetes and heart disease are scientifically linked to tooth decay and especially gum disease. Excessive alcohol, tobacco consumption and poor oral hygiene increase the risk of developing tumors in the oral cavity. Dental prevention and optimization of oral hygiene are therefore essential.
Early education and awareness-raising in children and adolescents are a prerequisite for responsible handling of food and one's own health.
With the hashtag #mahlzeit we want to draw attention to a healthy mouth and teeth diet.
If you have any questions about oral and dental health, we are always your contact and will be happy to provide you with further information.
Your team of dentists on Theaterstrasse